Best Choice Window Cleaning of Vero Beach's Story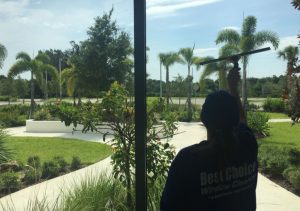 Thank you for taking the time to visit our "about us" page. We hope this page helps you get a feel for our company and the spirit of our crews. My name is Ed Kuvlesky, owner of Best Choice Window Cleaning. We believe it is important that you are familiar with the service providers you entrust within your home and business.
First, a little bit about our name, we chose "Best Choice Window Cleaning" after careful thought. We wanted to acknowledge that the client has a choice to select any window washing business. It is also an honor to be chosen as your window cleaners. We understand the importance of this business relationship and we do not take it lightly.
Next, our tag line "clearly the best" has two meanings. We want to convey how important our work ethic is to us and our clients. First, we must leave you with perfectly cleaned windows, our reputation depends on it. Secondly, we wanted to speak about our promise to perform above and beyond any other window washing business. Our old fashioned work ethic and specialized window cleaning technique separates us from all others. We promise to provide the highest value in window cleaning service with 100% satisfaction guaranteed every time.
We are a family operated window cleaning business focused on serving our clients with the highest standards and principles instilled by our parents. Dedicated to on time appointments, unsurpassed attention to detail and prompt communication, you will be happy you choose us for your service needs.
Best Choice Window Cleaning believe's the highest compliment our clients can pay us is to be recommended to their family and friends. We have experienced explosive growth driven by our customer's word of mouth compliments. We respect your home by always wearing shoe covers while inside your home.
I encourage you to give us a call and meet our team, you will not be disappointed. We are building our professional relationship to serve your needs for years to come. Once you select Best Choice Window Cleaning your view will be improved and you will never have to worry about cleaning your windows again.
Thank you
Ed Kuvlesky, Owner